Suicide Hotline 1.800-273-TALK (8255)
Kids help phone number: 1 800 668 6868
CAF members assistance 1. 800 268 7708
Vets Pension Error

Miscalculation of Disability Pensions Class Action

https://vetspensionerror.ca/

Vets Pension Error
Claim filed 30 Oct 2019

VVi 10 Aug 2021 db

Veterans Affairs Canada administers certain disability benefits for current and former members of the Canadian Armed Forces and the Royal Canadian Mounted Police, which must be adjusted annually. The class proceeding seeks damages for alleged underpayments that occurred because of errors in the calculation of annual adjustments under section 75 of the Pension Act.

ABOUT THE ACTION

Annual adjustment provisions under Part V of the Pension Act require that the basic pension amounts listed in Schedule I be adjusted annually based on the statutory formula in section 75 of the Pension Act.

Annual adjustments ensure that basic monthly disability pensions and awards keep pace with the cost of living and price inflation. The annual adjustments are based on calculations that take into account:
(a) annual increases in the Canadian Consumer Price Index; and
(b) average wages of certain categories of federal public sector employees minus income tax for a single person calculated in the province with the lowest combined provincial and federal income tax rate ("Wage Rate").

On 5 November 2018, Canada's Veterans Ombudsman announced that his office had discovered that Veterans Affairs Canada ("VAC") had failed to factor the basic provincial tax credit into the Wage Rate used in indexing calculations under section 75 of the Pension Act, which resulted in "an accounting indexation error" by VAC and lower annual adjustment rates than what the rates would have been in the absence of the error. This error led to reduced payments to eligible recipients of disability benefits. The Veterans Ombudsman reported that VAC estimated that this error affected about "270,000 Veterans" of the Canadian Armed Forces and the Royal Canadian Mounted Police as well as "survivors and their estates". The Government of Canada has publicly acknowledged this error and announced that $165 million had been secured for correcting the error, which Canada has said it will pay out without interest.

Based on access to information requests and other investigations made since the Veterans Ombudsman discovered the original indexation error, the Plaintiffs have learned about additional errors in VAC's annual indexing calculations under section 75 of the Pension Act, and allege:

* VAC failed, from 2002 to present, to calculate the Wage Rate using the province or territory with the lowest combined provincial and federal income tax rate (the Nunavut income tax rate should have been used instead of the rates applicable in Ontario and British Columbia);
* VAC failed, from 2007 to present, to include the Canada Employment Amount in its calculation of the Wage Rate; and
* VAC failed, from 2002 to present, to include the Northern Resident Deduction in its calculation of the Wage Rate.

The Plaintiffs allege that affected individuals are entitled to interest on the amounts wrongfully withheld and that they are entitled to equitable compensation for loss of use of entitlements on the amounts wrongfully withheld.

CLASS MEMBERS

On 23 December 2020, the Federal Court certified the action as a class proceeding. The class is defined as:

All members and former members of the Canadian Armed Forces and Royal Canadian Mounted Police, and their spouses, common law partners, dependants, survivors, orphans, and any other individuals, including eligible estates of all such persons, who received – at any time between 2002 and the present – disability pensions, disability awards, and other benefits from Veterans Affairs Canada that were affected by the annual adjustment of the basic pension under section 75 of the Pension Act including, but not limited to, the awards and benefits listed at Schedule "A" of the certification order:

* Pension Act: pension for disability; pension for death; attendance allowance; allowance for wear and tear of clothing or for specially made apparel; and exceptional incapacity allowance;
* Veterans Well-being Act: disability award; and clothing allowance;
* Veterans Well-being Regulations: remuneration of an escort;
* Veterans Health Care Regulations: remuneration of an escort; and treatment allowance;
* Veterans Review and Appeal Board Act: compassionate award;
* Civilian War-related Benefits Act: war pensions and allowances for salt water fishers, overseas headquarters staff, and air raid precautions workers; and injury for remedial treatment of various persons and voluntary aid detachment (World War II);
* Children of Deceased Veterans Education Assistance Act: monthly allowance for education; and
* Flying Accidents Compensation Regulations: flying accidents compensation.

See more...
PARATROOPER REUNION 2023

VVi 10 Oct 20220

The Airborne Social Club (Edmonton) has confirmed they will host a Paratroopers Reunion in Edmonton during the above period.

This reunion is open to all former members of the Canadian Airborne Regiment; current and former members - Regular and Reserve Force Parachute Units/Elements; former members of the Canadian Airborne Centre; former members Canadian Forces Parachute Maintenance Depot; 1 Canadian Parachute Association; current and former paratroopers members of Search and Rescue Squadrons/Elements; Allied Paratroopers; and all other paratroopers, whether or not they have served in an active parachute role or not.

In addition to the above members themselves, a grateful welcome is extended to all Honorary Club members, wives, spouses and partners of members no longer with us.

While no specific theme has been established, members of the Club are at the initial planning stages and will provide specific details on a periodic basis.

Although we are endeavouring to reach as many as possible via all means possible, it is requested that you pass on this information to those you are in contact with and who we may not have contacted.

Open PDF...

See more...
Veterans Foodbank Association


VVi 02 Apr 2021 no

Our Mission
The Veterans Association Food Bank is dedicated to supporting and enriching the lives of Veterans and their families.

Our Vision
As a community of Veterans helping Veterans, we will be the support base where together we create healthy and resilient futures.

Who We Serve
The Veterans Association Food Bank recognizes any person who is currently serving or has honourably served in the Canadian Armed Forces. The Veterans Association Food Bank also recognizes and offers support to those currently serving, honourably discharged or honourably released Commonwealth Allies, members of the Royal Canadian Mounted Police, Peacekeepers, Merchant Marines, or Ferry Command (Coast Guard). Support will be extended to spouses, widows, widowers, and any dependent children in need. Proof of military service or affiliation required.

See more...
Valour in the Presence of the Enemy

VVi 22 Feb 2021

Our mandate is to try to get a Canadian Victoria Cross awarded to an Afghanistan veteran. To achieve this goal we are going to put on a two hour special that highlights the actions of ten soldiers and then you the viewer decides who you would award the most prestigious medal to.

Facebook site: https://www.facebook.com/Valour-in-the-Presence-of-the-Enemy-115919716985560
Canadian Soldiers Assistance Team (CSAT) Forum Newsletter - This is a VVi forum.
Mefloquine Lawsuit Lawyers in Canada

VVi 19 Oct 2020

Introduction to Mefloquine and its Effects

Mefloquine is an anti-malarial medication, which was often prescribed for members of the Canadian Armed Forces who were deployed to malaria-prevalent areas such as Somalia, Rwanda and Afghanistan.

However, there are many serious side effects associated with the use of Mefloquine, some of which are especially problematic for circumstances experienced by military personnel. These side effects include, but are not limited to: anxiety, paranoia, psychotic behaviour, depression, thoughts of suicide, and hallucinations.

The warning labels for Mefloquine by Health Canada were revised in 2016 to include the above side effects, emphasizing the severity and duration of these effects. Despite allegedly finding that Mefloquine does not have long-term effects, the Canadian Armed Forces now only prescribes Mefloquine as the last line of prevention or treatment for malaria.

Legal History and Action

In 2001, a class action was commenced for veterans who served in Somalia and who were ordered to take Mefloquine. This action was commenced in Ontario against the Canadian government, among others. However, in 2018 this class action was dismissed for delay.

In late 2018, Howie, Sacks & Henry LLP partnered with Waddell Phillips PC to represent individual mass tort claims for all veterans who were required to take Mefloquine from 1992 onwards.

For more information on the difference between a class action and mass tort actions, please see our article here.

The Mefloquine Issue

Canadian veterans who were deployed to various locations including Somalia, Rwanda and Afghanistan in the 1990's and 2000's, and who were required to take Mefloquine, have come forward claiming they are now suffering from serious and long-term side effects from the anti-malarial drug.

Many veterans claim they suffered one or more of these significant side effects after they were ordered to take the anti-malaria drug, which was initially prescribed as part of a clinical trial in Somalia, and then afterwards adopted by the military as their anti-malarial drug of choice. One of the main issues is that the clinical trial did not follow proper procedure. Among its failings, the veterans were not asked to provide their consent and potential side effects were not disclosed to them prior to the trial. Later on, for missions such as those in Rwanda and Afghanistan, the government continued to fail to disclose to its troops the potentially permanent side effects.

As a result, they claim the federal government did not meet its duty of care. Veterans are now seeking compensation for the harm and injuries they have suffered as a result of that negligence on the part of their government.

Mefloquine is rarely used today in the Canadian military. It was announced in June 2017 by the Department of National Defence that Mefloquine would only be used if someone in the Canadian Armed Forces specifically asked for it, or if there are particular issues with the other anti-malarials (i.e., allergy, interaction or contraindications with other drugs, etc.).

Call Today

Call us today for a free consultation and to see if you are eligible to join our Mefloquine Lawsuit in Canada.

1-877-771-7006


See more...
VVi Website

VVi 25 Jun 2020

This website, www.veteranvoice.info is now available on all devices, including smart phones, and all OSs.

If you note any problems, contact webmaster@veteranvoice.info .


Deal-Hacks SAVINGS TIPS & SHOPPING ADVICE
Canadian Military & Veteran Discount Guide: The Ultimate List

SEPTEMBER 23, 2019

VVi 20 Oct 2019

The Dealhack Canadian Military and Veteran Discounts List is the result of our quarterly survey of brands that offer discounts to all members of the Canadian Armed Forces. Every 3 months, our team independently verifies each and every discount on this list. We also add more brands to the list regularly when we come across them.

The list currently includes more than 80 brands conveniently broken down into 10 categories. You can also save or print the list to use as a handy reference.

Download the Canadian Military & Veteran Discounts List in PDF format here...

Note that in addition to the discounts listed below, many businesses offer informal discounts to military personnel and veterans across Canada. When buying something, always be sure to ask the store associate about whether or not they offer military or veteran discounts.
Were you Prescribed Mefloquine while in MilitaryService? Learn about the Lawsuit

Howie, Sacks and Henry LLP.

VVi 22 Aug 2019 db

During the 1990s, it was common for military personnel to be prescribed mefloquine, an antimalarial medication, when deployed to areas around the world where malaria was prevalent. However, issues with the drug have since been discovered causing some to be concerned. In fact, in 2016, Health Canada updated the warning labels for mefloquine, highlighting serious side effects – anxiety, paranoia, depression, hallucinations, psychotic behaviour and thoughts of suicide –which can persist for months or years after taking the drug.

A class action was commenced in 2000 against the Canadian Government; the case was dismissed for delay in April 2018.

HSH has partnered with Waddell Phillips as Co-Counsel to bring forth individual claims for any member, or former member, of Canadian Armed Forces who was ordered to take Mefloquine.

If you or a loved one is taking or has taken mefloquine and has experienced harmful side effects associated with its use, HSH personal injury lawyers Paul Miller and Michael Henry can help you to identify whether you may benefit from taking part in this legal action.

What's Being Done?
By prescribing mefloquine without following proper procedure for a clinical trial, and failing to inform our forces of the side effects, members of the military have suffered debilitating medical symptoms, some serious with long-term impact. HSH lawyers Paul Miller and Michael Henry, along with Waddell Phillips, want to hold the Canadian Government accountable.

The objective of the mefloquine lawsuit in Canada is to help its victims receive compensation for the drug's harmful effects and for being part of a clinical trial that didn't follow proper procedure despite potential risks. As a mass tort litigation, cases proceed on an individual basis.

Helping You

HSH lawyers can help you create a claim for compensation and damages based on the pain, suffering and losses you have experienced after experiencing side effects from a drug. If you or a loved one has been prescribed mefloquine and have experienced harm as a result, HSH can explain your rights and determine whether you may benefit from participating in this mass tort litigation.

Learn More

Click here to learn more about the Mass Tort Action and Town Hall Meetings in your area...

See more/Seek legal assistance...
"A veteran's right to seek an appeal to a decision should not be limited by his or her financial means."

https://veteranslegalassistance.ca

VVi 31 Dec 2018 db no

"A veteran's right to seek an appeal to a decision should not be limited by his or her financial means."

Peter Stoffer
Former Member of Parliament

"As lawyers, we are often introduced to people and organizations that have difficulty gaining access to justice due to their personal financial situation."

Peter Driscoll
Counsel, McInnes Cooper

Our Mission

To provide financial support to Canadian veterans, so they can pursue disability claims and other legal cases that will broadly benefit fellow veterans nationally.

See website...

A Message from Dennis Manuge

by veteranslegal
December 31, 2018

Dear Veterans and Family Members:

Wishing you a wonderful and happy new year! I am hopeful that the VLAF will enable vets and our families to pursue justice within the legal system, and enhance our lives while standing up for ourselves and others.

Access to justice is an important aspect of being a Canadian, and the positive legacy of the SISIP LTD Class Action can inspire others and encourage all Canadians to stand proud, while utilizing legal resources that otherwise might not be available.

One person can make a difference and promote a ripple effect than can positively impact many others.

Warm regards,
Dennis Manuge
Lead Plaintiff, SISIP LTD Class Action

Indigenous Service Members and Veterans

VTN
VVi 05 Aug 2018 nb

We recognize the unique experiences of Indigenous Service Members and Veterans.

Indigenous Veterans have a strong history of service in the Canadian Forces. With this service comes unique experiences and challenges both in uniform and in the transition to civilian life. We salute all First Nations, Inuit and Métis Veterans for their contributions and service to Canada!

That's why we've created The Men's Indigenous Veterans Transition Pilot Program. This program is a place to heal alongside fellow Veterans while exercising spiritual and traditional identities.

This September, we invite you to join us.

The Men's Indigenous Veterans Transition Pilot Program is based on our internationally recognized, research-backed Veterans Transition Program (VTP). Delivered in partnership with True Patriot Love, this one of a kind program will be facilitated by psychologists who've received special training in Indigenous military issues and co-led by VTP Graduates who are Indigenous Veterans themselves. All expenses, including travel, will be covered.

https://vtncanada.org/indigenous-program/

See more...
Operation Medusa

The Furious Battle That Saved Afghanistan from the Taliban

BY MAJOR GENERAL DAVID FRASER & BRIAN HANINGTON
FOREWORD BY GENERAL LORD DAVID RICHARDS
Publisher: McClelland & Stewart

From the Canadian in charge of the joint military command in Kandahar Province in Afghanistan, this is the real on-the-ground story of one of NATO's bloodiest, most decisive and misunderstood operations: The battle of Panjwayi, the defining moment of "Operation Medusa."
The Last Post Fund's mission is to ensure that no Veteran is denied a dignified funeral and burial, as well as a military gravestone, due to insufficient funds at time of death.

See more... http://www.lastpostfund.ca/
Wounded Warriors Canada

Nonprofit Organization

November 15 at 12:48pm

There have been 48 reported Veteran and First Responder suicides this year, 25 of which have occurred since June. When you include Corrections Officers, the number is even higher. This devastating reality is a concrete reminder of the fact that Operational Stress Injuries know no theatre of war, no critical incident, or emergency call. It is why today, at a presentation to the Alberta Association of Chiefs of Police, we are announcing a new initiative called In This Together, which is aimed at raising awareness about the need for enhanced mental health program support for our uniformed service members and their families.

We have published an Op-Ed that has been distributed nationally and can be read here: https://woundedwarriors.ca/…/upl…/In-This-Together-Op-ed.pdf

When injuries are sustained, it doesn't matter where, when or how they occurred. What matters is that the individuals and their family members know that we, as a country and community, are in this together – working to ensure they receive the help they so rightly deserve. Join our mission, share this news, help however you can...because when it comes to the health and well-being of those who serve our country at home and abroad, we have to be in this together. #INTHISTOGETHER

See more On Wounded Warriors Canada...
Suicide Prevention Manual (VAC-DND) Release Oct 2017

VVi 07 Oct 2017 db

See...http://veteranvoice.info/archive/archive_17Oct_DGM-23817-TK8_CAF-VAC_SuicidePrevention_EN_FINAL.pdf

Or, go to the VVi Self Help page...

See more on CTV coverage...
Veteran Transition Network (VTN)

Knowing that someone you trust has your back is a pretty big deal.

When entering the civilian world, many Vets are struck by the relative lack of camaraderie, structure, goals, and responsibility. It's not unusual to end up feeling isolated and alone as a result.

We know how important it is to be around people who know what your world is really like. This is why our programs take place in private locations, co-led by graduates who are Veterans themselves.

Facilitated by psychologists & counsellors who've received specialized training from us in military issues, our charitable programs are backed by university research and 17 years of experience.

1-844-CDN-VETS (236-8387)

See more on VTN...
Welcome to the International Mefloquine Veterans' Alliance website.

The International Mefloquine Veterans' Alliance is a network of veterans, families and friends affected by the health impacts of the neurotoxic drugs – mefloquine (trade name Lariam) and tafenoquine.

The aim of this website is to provide information and support for those dealing with the complex and debilitating health impacts of mefloquine and tafenoquine toxicity.

Our current objectives are to:

• Raise awareness of mefloquine and tafenoquine, their impacts on the health of veterans, serving military personnel, their families and friends.

• Advocate for the provision of proper health care for veterans and families affected by mefloquine and tafenoquine toxicity, including the development of clinical guidelines for diagnosis & management, and comprehensive rehabilitation programs.

• Provide outreach and support for veterans and families affected by mefloquine and tafenoquine neurotoxicity.

• Advocate for the banning of mefloquine use in military forces worldwide.

• Prevent the introduction of tafenoquine in military forces worldwide.

Go To....https://imvalliance.org/


Effective leadership and training, proper equipment, and mission-critical interoperability are key to getting the job done for Canada. Our military forces need the best possible protection to have the full confidence to be decisively effective in completing their dangerous missions abroad, and to make a difference on the home front when we need them.

See FrontLine online... http://frontline.online/
A Canadian Infantry Platoon Commander's story in Sectors West and South of Croatia in 1993, including the Medak Pocket.

Created by Alfie Bloggins

58 backers pledged CA$ 4,938 to help bring this project to life.

Pledge support to this project...
https://www.kickstarter.com/projects/nopeacetokeep/no-peace-to-keep-by-alfie-bloggins-medak-pocket
Military Personnel Baggage Allowance with West Jet and Air Canada

Are you planning the vacation of your dreams this summer but can't seem to cram all your belongings in one suitcase? Well, not to worry because if you're travelling via Air Canada or WestJet, former and currently serving Canadian Armed Forces (CAF) members are entitled to extra baggage allowance.

When flying Air Canada, Air Canada Rouge or Air Canada Express, veterans, CAF members, and U.S. military members can check up to three pieces of baggage weighing up to 32 kg each.

The offer applies when a member is travelling both on duty and for personal reasons.

The airlines require valid military ID before confirming eligibility. ID must be presented to a customer sales and service agents at the airport. Therefore, self-service check-in does not atomically apply for the increase baggage allowance.

"Eligible members of the military must continue to use self-service (kiosk, web, mobile) however to initiate check-in; baggage tags according to the standard ticket allowance must be printed at an airport kiosk, if available. To obtain baggage tags for any additional baggage over and above the standard ticket allowance up to three pieces, eligible members must proceed to Check-in Assistance at kiosk-equipped stations or Economy Class at non-kiosk stations and present a valid military identification card," states the Air Canada policy.

When travelling via WestJet, both former and currently serving CAF members are entitled to four pieces of luggage free-of-charge. Those four pieces have a maximum weight limit of 23 kg each.

"We appreciate our Canadian military's service to our country and our proud to offer this gesture as a token," said Lauren Stewart, Media Relations WestJet.

Acceptable forms of ID include:

- DND ID card for National Defence (NDI 20)

- Record of Service Card (NDI 75)

- Any Veterans Affairs Canada (VAC) Benefit Card

- Discharge Certificate from any branch of the Canadian Military

- Statement of Service from any branch of the Canadian Military

- Certificate of Service (CF 54 or CF 75) from any branch of the Canadian Military

- Valid DND Temporary ID card (NDI 10)

Canadian Forces or Former member CFOne card (with photo ID)

See more...
FREE PREVIEW - RUDE AWAKENING: THE GOVERNMENT'S SECRET WAR AGAINST CANADA'S VETERANS
Colonel (retired) Pat B. Stogran
Following a military career of over thirty years, which includes deployments to Bosnia and Afghanistan, Colonel Pat Stogran becomes Canada's first Veterans Ombudsman. The new Office of the Veterans Ombudsman is intended to be a symbol of Canada's commitment to the members and veterans of the Canadian Forces, who accept unlimited liability in the service of our country and often make traumatic, life-altering sacrifices. Colonel Stogran is proud to take the assignment, seeing it as an opportunity to give back to all those who serve. But in the next three years, as he encounters nothing but intransigence and malfeasance in the hallowed halls of government, he undergoes a rude awakening to the cesspool of callousness, deceit, and neglect that is the Government of Canada's response to the needs of its veterans. Stogran's exposure to the real Government of Canada, which is hidden from the view of mainstream Canadians, reveals that it is nothing like the myth that has been built up around it as a caring and committed model for the rest of the world. It is an experience he describes as more traumatic than the years he spent in war zones, and it will cause him to question what it really means to be a Canadian. Part shocking exposé, part dire and urgent warning, Rude Awakening reveals a culture of government that victimizes our veterans and could also very well threaten the quality of life we all enjoy as Canadians.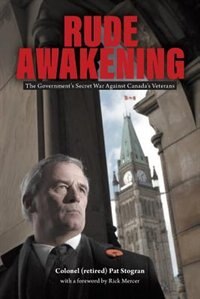 Paperback | December 18, 2015

byColonel (Retired) Pat B. Stogran

VVi 06 Oct 2016

See more...
To purchase see... http://www.amazon.ca/Rude-Awakening-Governments-Against-Veterans-ebook/dp/B019PIKNTK
PAT'S BOOK IS AVAILABLE VIA AMAZON:
https://www.amazon.ca/Rude-Awakening-...
Vigil Canada's Sacrifice in Afghanistan Hardcover – 2014

VVi 27 Jun 2016


by Rod McLeod (Author), Norman Leach (Editor)

See page...
Veteran Aide Memoire
This Aide Memoire is strictly to be used as a guide for ALL veterans. It is a 'field' manual for veterans' quick access to the outstanding issues.
Feed back to publisher@veteranvoice.info is always welcomed.
Download the Veteran Aide Memoire:
http://veteranvoice.info/ARCHIVE/aide_Memoire/Vet_Aide_Memoire.pdf